Jacksonville Transportation Authority Deploys HID VAL100 Ticket Validators
Upgrade transforms bus ticketing to enable a more connected transit ticketing system.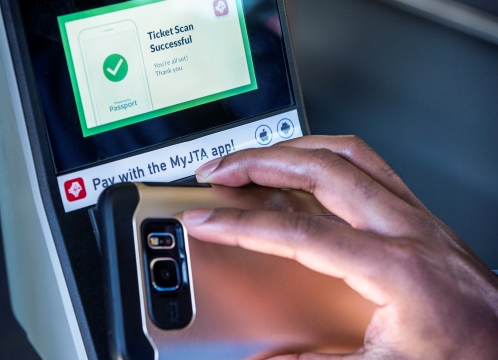 Business Challenges
As part of delivering against its vision of deploying a more connected transit system, Jacksonville Transportation Authority (JTA) required a mobile ticketing solution that incorporated on-board ticket validators, to create an easier transit experience for their riders.
The requirements for the on-board validators included:
An intuitive and easy-to-use ticket validation interface
Compatibility with the JTA mobile ticketing app (MyJTA)
Open and flexible hardware allowing future scalability
Business Solution
To coincide with the launch of Jacksonville's Bus Rapid Transit System and other technology updates, JTA selected Passport Inc. to deliver their mobile ticketing app and HID to provide compatible on-board hardware. HID VAL100 ticket validators were installed on over 200 buses allowing JTA customers to present their mobile tickets in the MyJTA App.
Business Impact
The ticketing solution allows JTA to:
Board passengers more efficiently
Upgrade payment systems cost-effectively
Increase mobile ticket utilization
Decrease the quantity of physical tickets printed
How Did HID Deliver Value?
Facilitated a 5.5x increase on the number of mobile tickets purchased by JTA customers year-on-year and a decrease in the number of physical tickets printed — leading to over $40,000 in savings in one year.
Passenger boarding times were reduced due to riders being able to scan their mobile tickets on the VAL100 through the MyJTA app as they board.
JTA can upgrade systems cost-effectively negating the need to replace the onboard hardware.
This article was originally published by HID.